Children's Health Defense (CHD) filed a lawsuit on Monday in San Francisco Federal Court charging Facebook, Mark Zuckerberg, and three fact-checking companies with censoring truthful public health posts and for fraudulently misrepresenting and defaming CHD.
According to CHD's Complaint, Facebook has insidious conflicts with the Pharmaceutical industry and its captive health agencies and has economic stakes in telecom and 5G. Facebook currently censors CHD's page, targeting its purge against factual information about vaccines, 5G and public health agencies.
The lawsuit also challenges Facebook's use of so-called "independent fact-checkers" – which, in truth, are neither independent nor fact-based – to create oppositional content on CHD's page, literally superimposed over CHD's original content, about open matters of scientific controversy. To further silence CHD's dissent against important government policies and its critique of Pharmaceutical products, Facebook deactivated CHD's donate button, and uses a variety of deceptive technology (i.e. shadow banning) to minimize the reach and visibility of CHD's content.
An online press conference will take place Wednesday, August 19th at 3:00 p.m. ET with the legal team and a key witness whose online content Facebook falsely disparaged. During the press conference, lawyers will take questions from the media and concerned citizens. Register to receive a link to the press conference.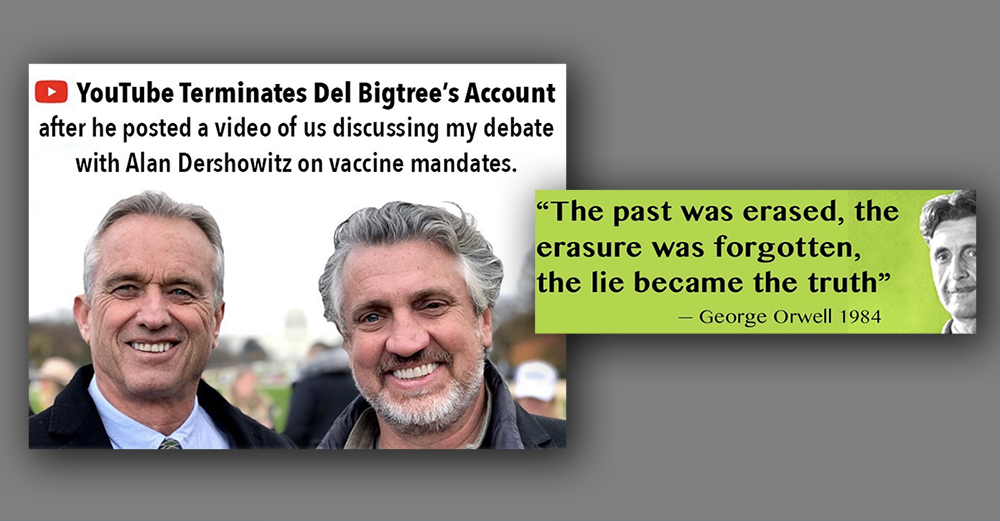 By Robert F. Kennedy, Jr. Chairman, Children's Health Defense
On July 29, YouTube terminated Del Bigtree's "The Highwire" account after he posted a video of Del and me discussing my debate with Alan Dershowitz on vaccine mandates. YouTube also purged hundreds of other truthful videos on vaccines.
YouTube's owner, Google, is effectively a vaccine company. Two subsidiaries of Google's parent company, Alphabet, market and manufacture vaccines.
Announcing a new FEATURE LENGTH PIECE that promises to be the most revelatory film on what is driving the vaccine agenda—the various roles of the WHO, Bill Gates, Tedros Adhanom, Anthony Fauci and more. The film was created by the team behind the game-changing Plandemic video that went viral and was banned on every major social media platform for exposing the truth about Covid-19.
Going deep into what is really happening with mainstream media, Silicon Valley tech giants, big pharma and our health protection agencies, film maker Mikki Willis' new film finally connects the dots.
By Nate Doromal, Guest Contributor
War metaphors in public health lead to the implicit acceptance of vaccine injury as acceptable collateral damage in the war against infectious disease. A hush-hush approach is the norm where it is not professionally acceptable for a public health official or doctor to acknowledge or discuss the reality of vaccine injury.
The premise of vaccine fundamentalism is thus: If vaccines are the way to win the war on infectious diseases, then vaccines themselves are too important to be deterred by the collateral damage of infrequent vaccine injury.
War metaphors in public health and vaccine fundamentalism combined have led to a situation where vaccine-injured individuals and families are themselves seen as enemies by the very public health systems that are meant to serve them. There are four injustices at play here: 1) the vaccine injury itself, 2) the denial by the public health systems of vaccine injury, 3) the adversarial nature of the government compensation system, and 4) the larger denial by society at large.
By Pam Long, Guest Contributor, Former US Army Medical Service Corps Officer
With the new COVID-19 vaccine on the horizon, particularly for military personnel, being prepared to advocate for yourself is more important than ever. Know how to navigate vaccine exemptions within the military by understanding that you are a resource and force protection is valued above all else. Plus, specific tools and resources to support you!
From the introduction:
"Today's childhood vaccination schedule of 69 doses is complicated, and you as a parent are entitled to know what you are giving your child. You have a desire (and a responsibility) to make informed health care decisions for your family. Until recently, vaccines were viewed as an automatic part of childhood. But today's parents are taking a more active role in making choices for their child's medical care. That's what this book is all about -- information. Open, honest, complete, and accurate information that all parents can use."—Dr. Bob Sears
The Vaccine Book, new 2019 Revised Edition:
Covers new vaccines and the expanding vaccine schedule
Includes updated disease statistics, trends, and outbreaks
Has a new section on the spread of mandatory vaccination laws and more!
In this episode of the Future Generations Podcast, CHDs Mary Holland takes us right into the deep end of the health freedom movement, past and present. Her passion and expertise shine through not only in the fight to defeat the totalitarian agenda many corporate and governmental entities force upon the global populace, but also to safeguard the vision of the future when our children can truly express their highest potential.
Guest Editorial by David Brownstein, M.D.
COVID-19 continues to wreak havoc across our country. Previously quiet areas are aflame now with infections. Hospitals are running out of beds just as it happened in March/April in New York City and my home town, Detroit, MI. As of August 7, 2020, the CDC states that there have been 4,962,216 confirmed cases of SARS-CoV-2. Furthermore, 2,446,799 have recovered.
Dr. Fauci, who has been named America's doctor, has kept us informed about therapies being used to treat COVID-19, but has convinced us, repeatedly, that a vaccine is the only way out of this mess and that we all must wait for a vaccine to be quickly brought to market.
However, he has been silent on one question that urgently needs an answer; If there is no cure for COVID-19, how did the 2,446,799 COVID-19 patients recover from the illness?
By Matt Taibbi, Rolling Stone
On June 29th, 2020, while America remained transfixed by anti-police protests, the chairman and CEO of the pharmaceutical company Gilead issued a much-anticipated announcement. In a breezy open letter, Daniel O'Day explained how much his company planned on charging for a course of remdesivir, one of many possible treatments for Covid-19. "In the weeks since we learned of remdesivir's potential against Covid-19, one topic has attracted more speculation than any other: what price we might set for the medicine," O'Day wrote, before plunging into a masterpiece of corporate doublespeak.
The CEO noted a study by the National Institute of Allergy and Infectious Diseases, a division of the National Institutes of Health, showing that Covid-19 patients taking remdesivir recovered after 11 days, compared with 15 days for placebo takers. In the U.S., he wrote, "earlier hospital discharge would result in hospital savings of approximately $12,000 per patient."
The hilarious implication seemed to be that by shortening hospital stays by four days on average, remdesivir was worth $48,000 a dose.
By Guest Contributor John Stone, UK Editor, Age of Autism
An emergency order by Governor Tony Evers of Wisconsin ordering the wearing of masks has given rise to a most unsatisfactory investigation. A clause in the order reads:
WHEREAS, modeling by the University of Washington's Institute for Health Metrics and Evaluation estimates that a face covering requirement in Wisconsin could save more than 500 lives by October 1 if 95 percent of Wisconsinites wear a face covering in public;
But where is the research behind this, and what is its provenance?
By Apoorva Mandavilli, Independent
We've known from the beginning how the end will arrive. Eventually, the coronavirus will be unable to find enough susceptible hosts to survive, fading out wherever it briefly emerges.
To achieve so-called herd immunity – the point at which the virus can no longer spread because there are not enough vulnerable humans – scientists have suggested that perhaps 70 per cent of a given population must be immune, through vaccination or because they survived the infection.
Now some researchers are wrestling with a hopeful possibility. In interviews with The New York Times, more than a dozen scientists said that the threshold is likely to be much lower: just 50 per cent, perhaps even less. If that's true, then it may be possible to turn back the coronavirus more quickly than once thought.
Letters, Commentary & Editorials
News From Around the World
The Virus, the Vaccine, the Quarantine: The Week's Best News & Science
You Make It Possible
Children's Health Defense depends on generous donations from our community. Large or small, every donation gets us closer to achieving our goals. Listen to what RFK, Jr. has to say.
Children's Health Defense | ChildrensHealthDefense.org
Our mission is to end the childhood health epidemics by working aggressively to eliminate harmful exposures, hold those responsible accountable, and establish safeguards so this never happens again.
Children's Health Defense
1227 North Peachtree Pkwy, Suite 202
Peachtree City, Georgia 30269
Contact us
Want to change how many emails you receive?
You can update your preferences or unsubscribe below.