Dear Friend,
We know the media's censorship and spin is a massive issue.
Throughout the pandemic, the suppression of truth, misrepresentation of data and blatant disregard for real science have been constant threats to our democracy, health and freedoms.
Despite the media's efforts to silence the truth and muzzle our voices, the The Real Anthony Fauci: Bill Gates, Big Pharma, and the Global War on Democracy and Public Health, continues to be the #1 best seller on Amazon and now ranks #12 in best-selling audible books.
With your help, we can maintain that position on Amazon and also achieve a spot on The New York Times best seller list.
There are two ways you can help us break through this media blackout and share the truth!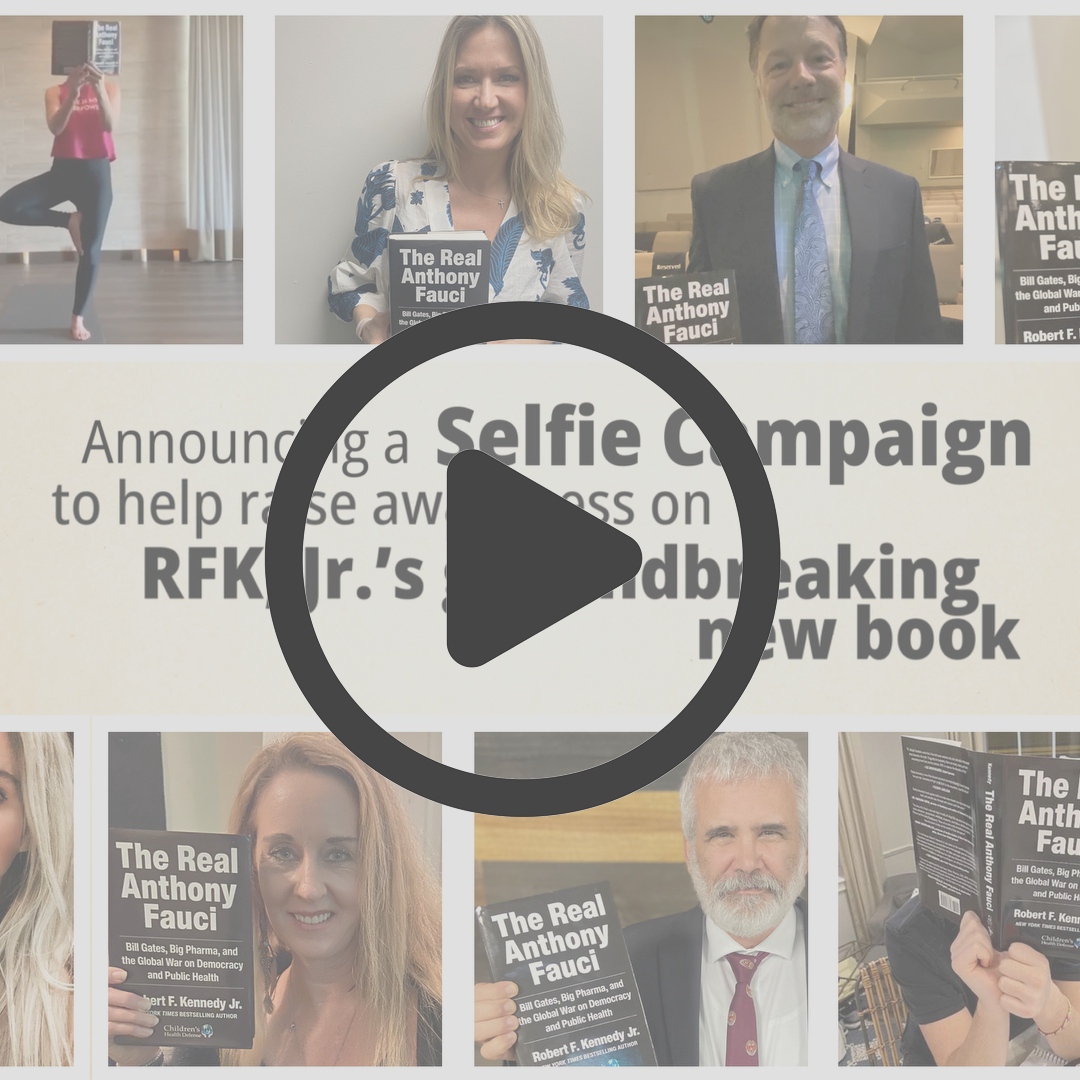 Grab your phone and your book! One effort we're launching to bring more awareness to the book, despite the media blackout, is a selfie campaign. Help us launch the campaign by participating!

We will kick off this contest today for four weeks and the top five most creative posts will receive a personalized, autographed copy of The Real Anthony Fauci from Robert F. Kennedy, Jr.
Let's show the world that hundreds of thousands of people are craving more information about the "real" Anthony Fauci and his dastardly ways.
Let's show the world we've reached #1 best seller despite a media blackout.
Let's show the world just how many people are actively seeking the truth.
It's easy and fun: All you need to do is take a selfie while holding up or reading the book and post it on social media. Be as creative as you'd like in staging your image or just take a basic picture clearly showing the book cover to help us drive home the point that so many people realize the importance of this book.
Selfie images should be posted with: "I Know The Real Anthony Fauci" and #TheRealAnthonyFauci
Bonus: you can also share the most shocking information you've learned from the book.
And your pets can get in on the action too!
After learning about the tortuous experiments of #BeagleGate we want our four-legged friends and other pets to get involved, too.
Pet images should be posted with: "I Know The Real Anthony Fauci" and #AvengeTheBeagles
Let's get this trending on social media! Join in and encourage others to do the same.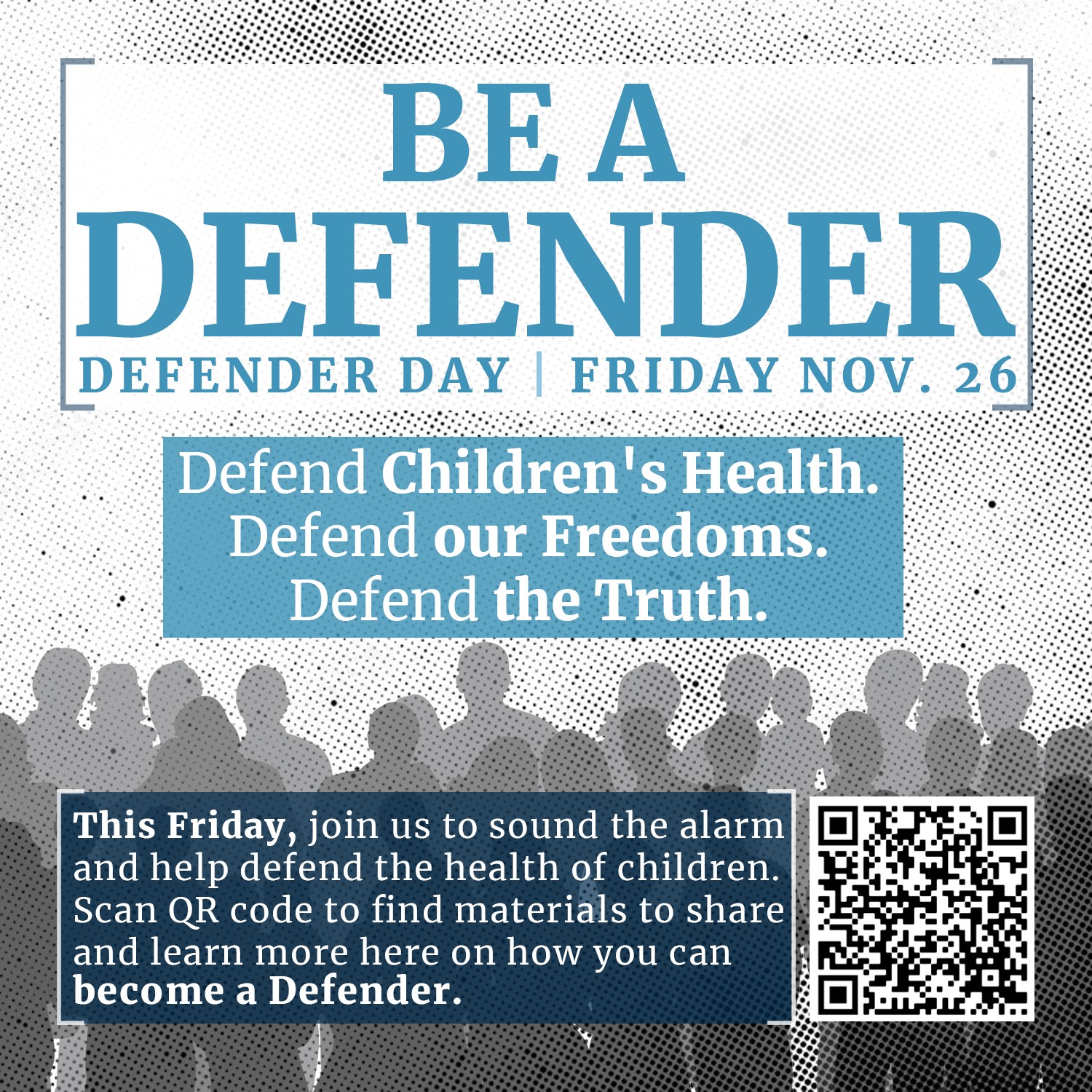 Join thousands of activists this Friday, November 26 on our very first Defender Day — a day to take action, educate and bring awareness to the masses. Visit our Advocacy Hub to download your choice of flyers that you can print and hand out on Black Friday at busy shopping centers and malls.

We know this information is not being covered by mainstream media. Let your voice be the message. Share critical information that every parent should know about the harms and risks of the Covid vaccine, before making a potentially life-altering decision for their child.
Millions of people across the country will be out shopping on Black Friday. Go to busy areas with a high concentration of people to share educational flyers. A polite conversation of "Did you know…" may be the seed that needs to be planted to encourage a parent or individual to do further research.
"Information is the currency of democracy." –Thomas Jefferson
The only antidote to censorship is truth! Help us to restore democracy in our country by exposing the real Anthony Fauci and sharing critical information about the dangers and harms of the Covid vaccine.
Thank you for supporting our efforts and for playing a critical role in defending children's health, truth and our freedoms!
The Children's Health Defense Team
P.S. You can purchase "The Real Anthony Fauci" at Barnes & Noble, Amazon, IndieBound, Bookshop.org, Target, Walmart, Books-A-Million and independent booksellers.